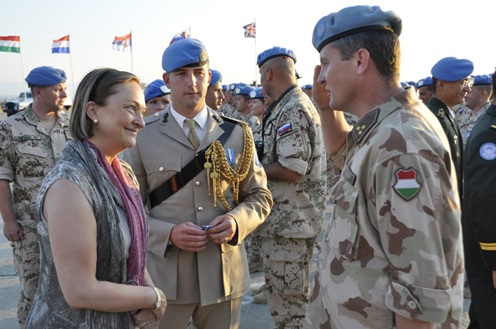 UN Secretary General Special Representative in Cyprus Lisa Buttenheim believes that the ongoing peace talks for the reunification of the island are the best chance Cyprus has to resolve its differences.
Addressing a reception to celebrate the UN's 70th anniversary, on Friday evening, at the Ledra Palace, Buttenheim said that "with the resumption of negotiations this May we are seeing a renewed energy and commitment for a lasting solution from both leaders and their teams."
"As the talks resume on 30 October, we recognise that this is the best chance Cyprus has to resolve its differences; the momentum gained this year must be harnessed to give Cypriots of all walks of life the peaceful solution they have long hoped for", she added.
At the same time she assured that "the UN is more committed than ever to supporting constructive discussions and a solution that delivers lasting peace on this beautiful island."
She recalled UN Secretary-General Ban Ki-moon's message that: "Only when we work together can we overcome shared threats and seize shared opportunities."
Buttenheim also said that this year the UN marks 15 years since the adoption of UN Security Council Resolution 1325 – the first resolution of the Council to address the disproportionate and unique impact of armed conflict on women.
In Cyprus, she added, "the greater inclusion of women in the peace-building process should be a source of pride."
"Through concerted efforts by the island's leaders and communities, more women than men are currently serving as facilitators and liaisons in the negotiations," she said.
At UNFICYP, she underscored, "we are also leading by example, with our Force Commander Major General Lund who continues to blaze a trail for women in peacekeeping."
Cyprus has been divided since the 1974 Turkish invasion. Repeated rounds of UN-led peace talks have so far failed to lead to the reunification of the island. The most recent attempt began in May this year between Cyprus President Nicos Anastasiades and Turkish Cypriot leader Mustafa Akinci.
UNFICYP, which arrived in Cyprus in March 1964, is one of the longest serving UN peace-keeping forces in the world.
Source: CNA