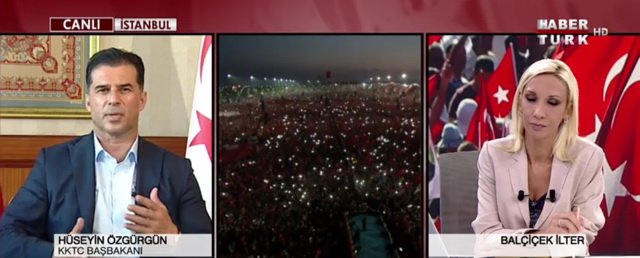 Turkish Cypriot daily Vatan newspaper (10.08.16) reports that the self-styled prime minister Huseyin Ozgurgun said that they, as "TRNC" (translator's note: the breakaway regime in the occupied area of the Republic of Cyprus), are seeking for an agreement that will safeguard the economic strength and the security of the Turkish Cypriot "people".
In an interview to Turkish TV channel Haber Turk, Ozgurgun noted that they are not seeking a settlement at all costs and stressed that they will always say "yes" to an agreement that will obtain the bi-zonality, the political equality of the two "peoples", the two founding states, as well as the continuation of Turkey's active and effective guarantees.
Ozgurgun further said that their aim, as "government", is with the close cooperation of the motherland Turkey to maintain the "TRNC's economy" and to prepare a prosperous and strong economically "TRNC" for the agreement. He added: "It is not possible to waive the UN parameters; we won't accept this". He claimed that if the Greek Cypriots shared the same intention as Turkish Cypriots, it would have been an agreement and Cyprus would have been an EU member as a whole.
On the same issue, illegal Bayrak television (online, 09.08.16) reports that Ozgurgun has said that he was pleased with the interest shown to him and his delegation during the Democracy and Martyrs Rally in Istanbul. He argued that such displays and demonstration of solidarity between motherland Turkey and the Turkish Cypriot "people" which is part of the great Turkish nation are extremely important.
Underlining the importance of a strong Turkish Armed Forces and the functioning of democracy in Turkey, Ozgurgun said: "We as the TRNC government and Turkish Cypriot people give importance to this.. Our participation in the rally which brought together all these people was extremely important for us".
Pointing out that the FetullahTerror Organisation also known as FETO had been added to the "TRNC's" terrorist list shortly after the failed coup attempt on the 15th of July, Ozgurgun noted that even the simplest tip was taken seriously and investigated by the "TRNC police". He also expressed his view that the coup plotters within the Turkish army did not represent the Turkish Armed Forces.
Referring to the water brought to the occupied area of the Republic of Cyprus from Turkey via the pipeline project, Ozgurgun claimed that the current "government" had swiftly solved the crisis involving the distribution of the water shortly after coming to "office".
Source: PIO