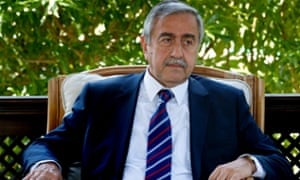 All his life, Mustafa Ankinci has worked towards peace. There has been his language: a lexicon of feel-good words infused with the precision of a conflict resolution professor. And there has been his belief that small things can lead to big things in his splintered country.
Now, at 68, ensconced beneath the arches in the white, colonial-era office that has been the headquarters of every Turkish Cypriot leader since independence, the president has his chance to act.
"We have had enough of suffering," Akinci, the three-time mayor of Turkish-controlled Nicosia, Europe's last divided capital, told the Guardian. "Yes, it is important to admit that suffering took place, that it was mutual, that mistakes were made," he said of the inter-communal strife that has long estranged Greeks and Turks on Cyprus. "But it is also high time that we look to the future."
For Turkish Cypriots, living in what officials politely describe as a state of limbo, the future would mean cohabitation with their Greek compatriots in an island reunited as a federal state.
Almost 41 summers have elapsed since Turkish troops – responding to a coup aimed at enosis, or union, with Greece – invaded the island in what Ankara has long viewed as its greatest military victory since the sack of Smyrna in 1922………..
Read the rest on:
http://www.theguardian.com/world/2015/may/31/mustafa-ankinci-advocates-focus-future-for-splintered-cyprus?CMP=share_btn_tw