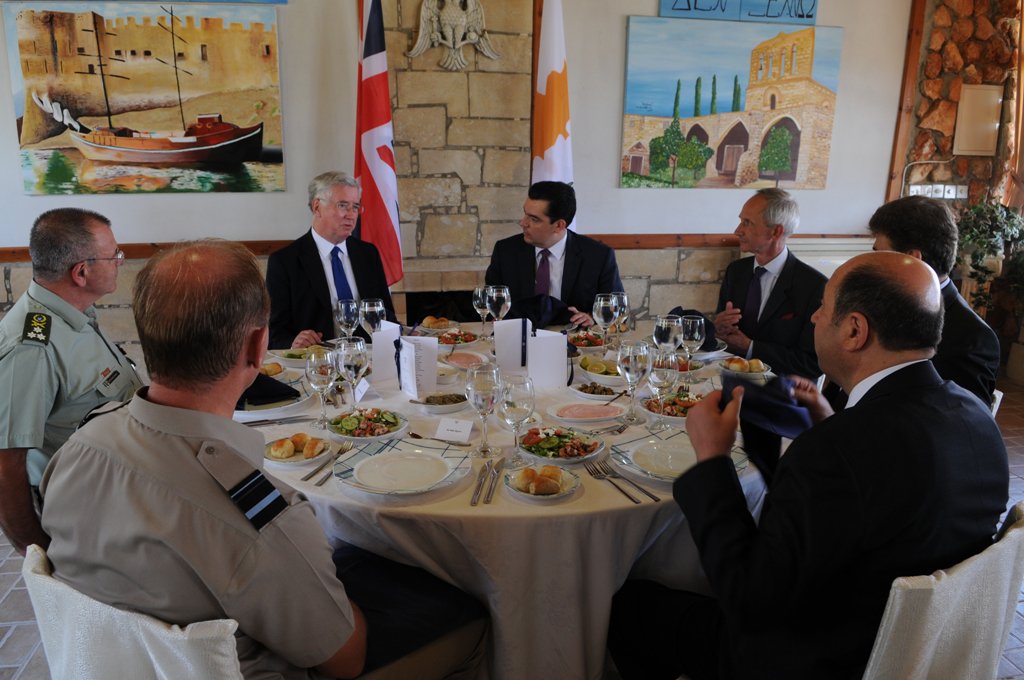 Cyprus has a role to play in the counter-Daesh coalition, clamping down on foreign fighters and providing essential aid to those caught up in this terrible conflict, while it also provides essential support for UK operations, British Secretary of State for Defence, Michael Fallon, said on Tuesday, after holding talks with his Cypriot counterpart Christoforos Fokaides.
Fallon, who paid a one-day visit to the island, said that since the beginning of the year RAF pilots have flown 2913 missions, conducted more than 948 strikes in Iraq and Syria and provided a huge amount of the Coalition's overall ISR.
"They've not operated at this sustained operational tempo in a single theatre of conflict for a quarter of a century. Only the US is doing more," Fallon noted, and stressed that "we are grateful for the cooperation Cyprus is showing, since without it, it would be much harder to sustain this level of activity. Critically, our campaign is delivering success," he added.
On his part, Fokaides said that he stressed the need "to promote partnerships with countries and governments that remain committed in the fight against terrorism, respect international treaties and maintain predictable policies. Policies that promote stability and avoid tensions."
"I also reiterated our vision for a mutual beneficial cooperation between all countries in the region, transforming the Eastern Mediterranean from a zone of conflict and instability, to a region of prosperity and growth, taking advantage of the enormous energy potentials and bringing to an end long – lasting conflicts and problems," he stressed.
Fallon said that he had constructive talks with Fokaides, noting that they reflected "on the strength of our relationship." Recalling that in February he hosted the first ever visit to the UK by a Cyprus Defence Minister, as they unveiled a new programme of defence cooperation, he noted that today they discussed "our progress across a range of areas: maritime security, air defence, equipment capability, procurement assistance, information gathering and Counter-Terrorism training."
He also said that they discussed the two countries` collaboration against Daesh, "a further example of the vitality of our Defence and security relationship."
Fallon noted that Daesh has lost more than 40% of the territory it has taken since 2014. "It's been driven from Ramadi, Hit, and most recently Fallujah in Iraq. In Syria, it's been kicked out of the Tishreen Dam east of Raqqa, while Syrian Democratic Forces have retaken the key supply route of Al-Shadadi. Daesh is losing land, losing money, losing the fight," he said.
He stressed that Britain is determined to keep pulling out all the stops in this fight against evil.
Referring to Brexit, Fallon said that "Britain is leaving the EU, but we're not abandoning European security. We're stepping up not stepping back accelerating our efforts to stop Daesh, upping our commitment to countering illegal migration, building on our partnership with Cyprus," he underlined.
Noting that "our nations face shared threats growing in diversity, multiplicity and size," the British Defence Secretary noted that "in the coming months, we will be demonstrating our cooperation in new ways, as we welcome the first Cypriot officer to the Royal College of Defence Studies, as we participate in joint exercises, especially in search and rescue, and we shall continue to contribute our aircraft to meet humanitarian challenges like the recent wild-fires in the Troodos Mountains."
"And, as you begin to transform your Armed Forces, as you modernise your own Security Strategy, we're standing by, ready to offer any advice you need after publishing our own Strategic Defence and Security Review last year", he noted, reassuring all Cypriots living and working on Bases that "they have nothing to fear from Brexit and we're determined to find ways to ensure it won't affect either your work or residence."
"So ours is a partnership to be proud of. Yet our goal today has been about making sure, in the midst of challenging times, that it continues to go from strength to strength," he concluded.
Fokaides noted that "following the signing of the Bilateral Military Cooperation Program last February, during the first ever official visit of a Cypriot Minister of Defense in the UK, we had the opportunity today to assess the progress achieved and to define the framework for the next steps."
"The partnership that we are building, step by step, is based on common principles and concerns about the future of the region. It is our common belief that new threats and security challenges, like terrorism, maritime security, search and rescue, immigration crisis, require common action," he stressed.
He noted that "this necessitates common training, planning and joint exercises that will allow us to enhance our capacity to more effectively contribute to regional security, stability and peace."
Referring to the crisis in Syria and the Middle East, the assymetric threats, and the danger of proliferation of weapons of mass destruction, which bear a direct impact not only on the region but on the security of Europe and the entire world, and noting that the consequences of increased geopolitical instability in the region are exported in the form of brutal terrorist acts within European cities, Fokaides said that he had the opportunity to underline the initiatives undertaken by the Republic of Cyprus, "in this volatile region, towards promoting regional security and cooperation with countries, like Israel, Egypt and others."
Finally, he added, "I had the opportunity to brief my counterpart on the latest developments on the Cyprus issue and I reiterated the unwavering commitment of President Anastasiades for a solution that will end the anachronism of the occupation and division of a member country of the European Union."
Fokaides thanked Fallon for the cooperation, "for the personal interest and contribution, towards the enhanced mutually beneficial relationship that we are building. A relationship which will be strengthened in the forthcoming period, through the appointment of a Defence Attaché in London and the attendance for the first time, following the invitation of the Secretary, of a Cypriot officer in the Royal College of Defense Studies," he added.
Furthermore he noted that "the sovereign decision of the British people to exit the EU, will not cause any harm to our relationship which will continue to develop on the same track."
According to a press release, issued by the British High Commision in Nicosia, Fallon was also going to visit the British Sovereign Bases Areas (SBAs) to review operations and meet British military and their families stationed there.
Source: CNA