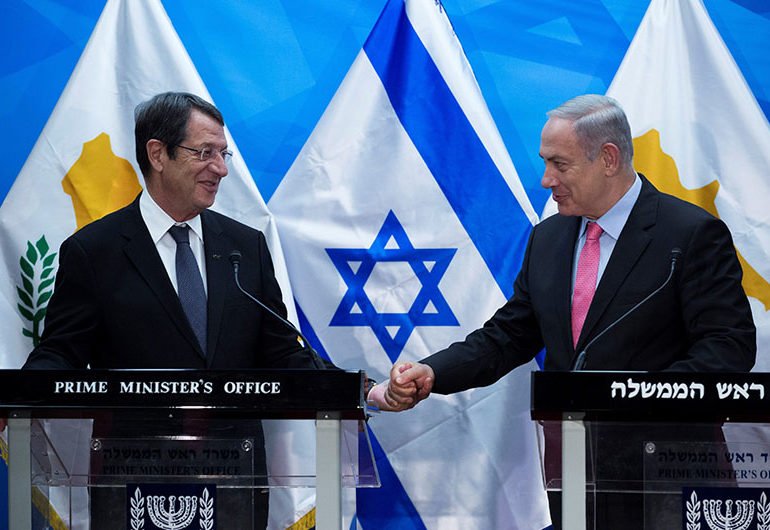 Israel has a strong interest in the resolution of the Cyprus problem, since this would greatly facilitate the pace of development for future energy projects, that will proceed according to international law, the President of the Republic of Cyprus Nicos Anastasiades and the Prime Minister of Israel Benjamin Netanyahu underlined in a joint statement, following their meeting on Sunday.
"In the context of the exploration and development of energy resources in the Eastern Mediterranean, both leaders concluded that there is no question that resolving the outstanding issues between Cyprus and Turkey would greatly facilitate the pace of the development of future projects, which will proceed according to international law, as well as greatly enhance stability in the region. Therefore, Israel has a strong interest in the resolution of this issue" it is noted.
It is also added that the two sides discussed the unitization issue regarding the "Aphrodite" and "Yishai" gas fields, and concluded that by September 2016 the two Energy Ministers will seek to finalize these discussions.
During their meeting in Jerusalem, both leaders stressed the importance of the trilateral framework between Israel, Cyprus, and Greece, that will reconvene by the end of the year, as was agreed between the parties at the Nicosia Summit, on January 28, 2016.
According to the joint statement, Benjamin Netanyahu and Nicos Anastasiades held a wide range of discussions that reflected the close and very important relations both countries enjoy. In the course of these discussions, both leaders emphasized their shared interest in regional stability and expressed their agreement to continue countering sources of extremism and terrorism.
The two sides also continued their talks about emergency response cooperation, with both leaders encouraging their teams to conclude these talks as soon as possible.
Cyprus has been divided since 1974, when Turkish troops invaded and occupied its northern third.
The Jerusalem visit took place in the backdrop of a deal between Israel and Turkey to normalize their bilateral ties. Moreover, Nicosia has concluded recently a process for the submission of bids ahead of a third licensing round in the country`s exclusive economic zone (EEZ). A total of six bids from eight companies were submitted – including companies from Israel – while the allocation of final licenses is awaited.
Source: CNA