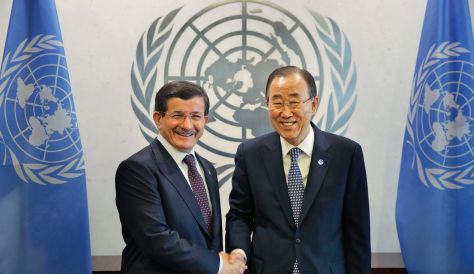 Turkey's prime minister called on UN Secretary-General Ban Ki-moon Thursday to come up with a plan to reunify Cyprus before he leaves at the end of 2016.
Ahmet Davutoglu told a UN news conference after meeting Ban that Turkey "will do everything possible for a sustainable, comprehensive peace in Cyprus."
Cyprus was split into a Turkish-speaking north and Greek-speaking south in 1974 when Turkey invaded after a coup by supporters of a union with Greece.
Davutoglu recalled the peace blueprint to reunite the island drafted by UN Secretary-General Kofi Annan which was approved by Turkish Cypriots, but rejected by Greek Cypriots in separate referenda in April 2004.
"In 2004 we supported the Annan plan and I suggested to Mr. Ban Ki-moon that we need now a Ban Ki-moon plan before the end of his term to end this long-surviving crisis," he said. Ban's second five-year term ends on Dec. 31, 2016.
Talks to reunify the Mediterranean island are currently deadlocked. (AP)
haaretz