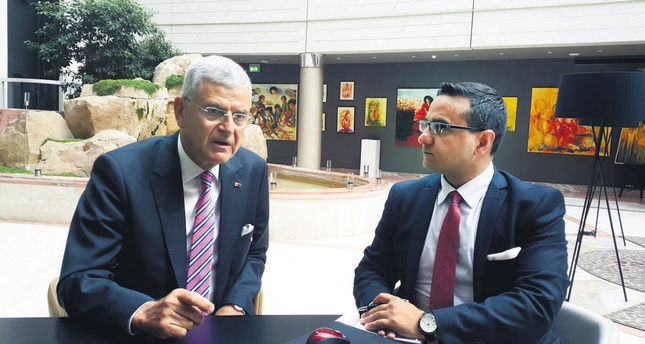 Turkish daily Sabah (27.07.15-online in English) published an interview by Turkey's EU Minister Volkan Bozkir who spoke to the paper about various subjects including terrorism and refugees, the EU expansion process and the Cyprus issue, during his visit to Luxembourg for the Ministers of European Affairs meeting.
Following is an abstract of Bozkir's interview:
"DS: Cyprus negotiations are continuing in a positive manner. How will this development affect Turkey's EU process?
VB: In our opinion, the negotiations on Cyprus are going well and, hopefully it will yield a successful result. If this issue is resolved, we will be able to open 14 chapters that are blocked due to this issue. During this eight-year period we became able to open all of the chapters. If the Cyprus issue is resolved, we will be able to open 10 chapters in one year. We have the advantage to open these 10 chapters in just two months. Chapters 23 and 24 are the most important ones. While Chapter 23 is about political criteria, Chapter 24 is about refugees and border security. At the moment, we are not able to open these chapters. Whenever it is made possible, we will be able to open it on the shortest notice. The EU, by not opening these chapters takes the EU's right to criticize Turkey from them. If the chapters are opened, there will be more meetings and there will be platforms to relay criticism. The current mode of communication that is conducted by sending notices is problematic. They should not expect us to bow our head because Turkey and the EU are equals. Even if the EU does not have relations based on equality with the other countries, this does not mean they can force Turkey into subordination.
DS: You had criticized this year's EU progress report severely and did not accept it. What was the reason behind your attitude?
VB: The progress report is not a platform to punish or to make accusations. It has to be constructive and it should be prepared together. It is not possible for us to accept a report when they avoid communicating with us. While I believe that European Parliament's Turkey Rapporteur, Kati Piri, has good intentions, she was not able to utilize the mechanisms very well when compared to the previous Rapporteur. A total of 85 out of 420 motions suggested in the report came from the same person. This person is the President of the Joint Parliamentary Commission. The Joint Parliamentary Commission along with the Association Commission was established with the Ankara Agreement to improve relations. The President of the Joint Parliamentary Commission is Greek and his Vice President is a Greek Cypriot; they suggested 85 motions combined. This year when they submitted the report, which was full of extreme criticism, we returned the report without accepting it. If they refer to this action in the following reports, we will continue to return the reports.
DS: In your previous statements you had said that there were certain lobbies that work against Turkey. What kinds of measures have been taken against these lobbies?
VB: This issue coincided with a period of time when Turkey was occupied with internal affairs. Our Parliamentarians could not make adequate contact with the European Parliament. During the preparation of the report everyone was occupied with the election campaign. When there was a reference to the 1915 incidents, we sent a committee, but the committee did not suffice. Our Ministers were also in a similar situation. Unfortunately, I think that we could not fight against these groups that try to harm Turkey's reputation. I hope that in the coming term we will be able to establish more mechanisms on this issue.
Referring to the issue of terrorism, Bozkir highlighted that Turkey is doing its part in the fight against terrorism and warned that it will spread unless EU countries collaborate on terrorism and share the responsibility of sheltering refugees.
Source:
http://www.moi.gov.cy/moi/pio/pio.nsf/All/DC5940F9A23D69CBC2257E900039A2E5?OpenDocument