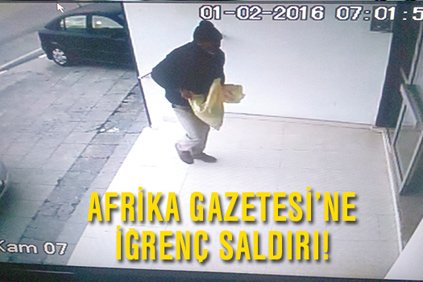 Under the title "Hey buddy, who are these?", Turkish Cypriot daily Afrika newspaper (02.02.16) reports that an unknown person holding a bag entered into the building in which the newspaper's offices are early yesterday morning and left the bag at Afrika's door. The corpse of a dog which was still bleeding was found in the bag.
The newspaper's security camera recorded this person, the face of whom is not evident. The "police" launched interrogations in Afrika's offices and confiscated the camera's records.
Asked last night by the paper's reporters regarding the result of their investigation, the "police" said that they had not found the perpetrator yet.
"It is estimated that some circles which are annoyed by the publications of our newspaper have used this method for threatening", writes Afrika.
Turkish Cypriot Havadis newspaper (02.02.16) covers the issue under the title "Disgusting attack against Afrika".
In statements to Turkish Cypriot Kibris newspaper (02.02.16), Afrika's publisher, Sener Levent said that this was a message to them that "we will kill you like dogs".
Source: PIO