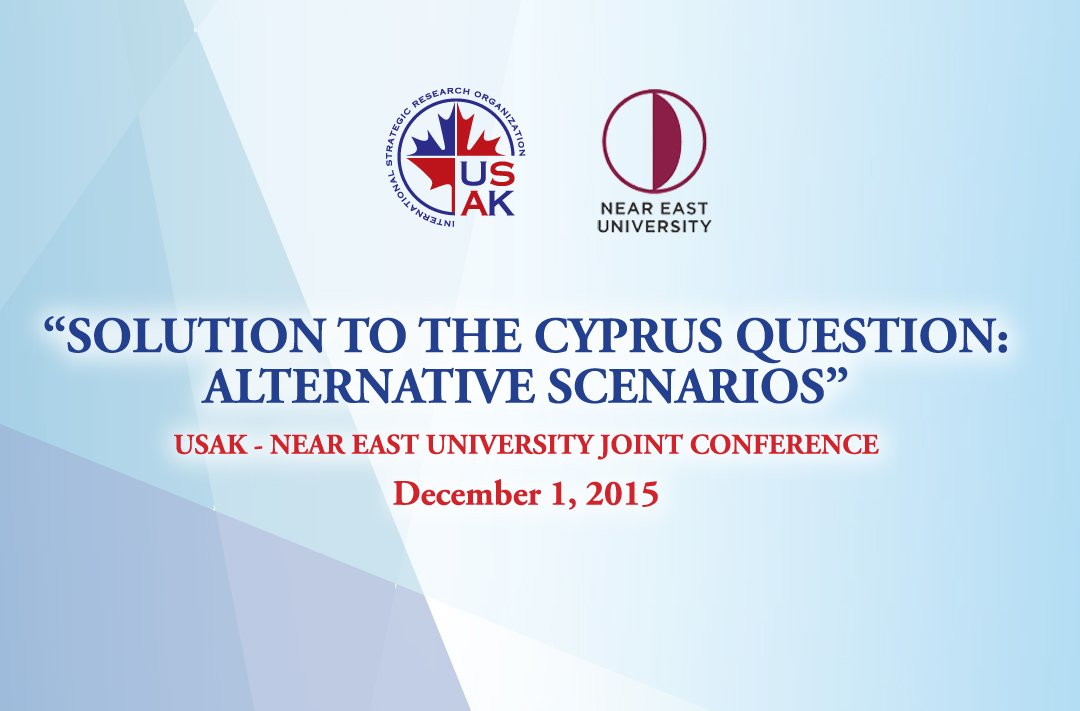 You are herewith cordially invited to participate in the joint conference organized by USAK and Near East University entitled "Solution to the Cyprus Question: Alternative Scenarios" to be held at USAK House on Tuesday, December 1st, 2015, from 10:00 am to 12:30 pm.
The conference will focus on the recent negotiation process between the two societies of the island amid the enduring Cyprus crisis. The conference will be attended by many prominent academics, diplomats, experts and statesmen who possess a wide array of experiences with regard to the Cyprus question.
The opening speeches of the event are to be made by USAK Director Ambassador (R) Özdem Sanberk and Dr Murat Tüzünkan, Deputy Chairman of Near East University's Board of Trustees.
The panelists are Ergun Olgun, Former Undersecretary of the Presidency of the TRNC and Professor Fatih Tayfur from Middle East Technical University. Professor Atila Eralp will moderate the panel.
The discussants are Professor Kudret Özersay, Dr Zeliha Khashman, Professor Hüseyin Pazarcı, Dr Nur Köprülü, Dr Umut Koldaş, Osman Ertuğ, Dr Ercan Çitlioğlu, Erhan Ayaz, Professor İhsan Bal, Professor Kamer Kasım, Professor Tuğrul Arat, Professor Sanem Baykal, Dr Mustafa Kutlay, and Fatma Yılmaz-Elmas.
The conference will be held in English and translation services will not be provided.
Please inform us of your attendance before 4:00 pm on November 30th, 2015.
Please note that the morning session will be open to public whereas the afternoon session will be open only to invited attendees.
Date: 1 December 2015
Time: 10:00 am – 12:30 pm
Venue: USAK Conference Hall, Ankara/Turkey
Tel: 0312 212 28 86 (pbx)