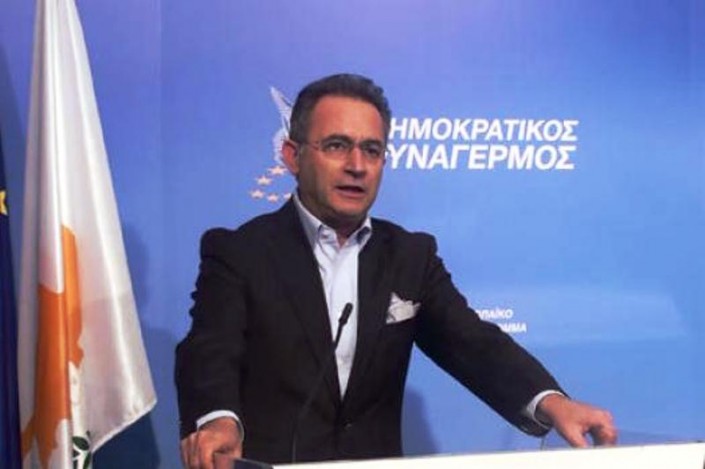 Published by:
http://www.kpdailynews.com/index.php/cat/35/news/2309/PageName/CYPRUS_LOCAL_NEWS
AKEL has stated their concern over the developments of the natural gas issues and the Cyprus Problem negotiation procedures, calling out to the Anastasiades' government to "change their course and take responsibility even if it is in the last moment."
KP Daily News
AKEL has stated their concern over the developments of the natural gas issues and the Cyprus Problem negotiation procedures, calling out to the Anastasiades' government to "change their course and take responsibility even if it is in the last moment."
They warned that if the contrary is to happen they will be face to face with the collapse of the negotiation procedure or the recommence of the procedure while the natural gas issue is still at the table.
According to the news in the Haravgi Newspaper given with the headline: "The AKEL Leader is calling for powerful initiatives in order to drive Turkey into the corner," AKEL Media Spokesperson Yorgos Loukaidis has asserted that the responsible of the crisis is Turkey, noting that: "we are not accepting the threats and blackmailing aimed at taking the natural gas issue to the negotiation table. This will eliminate the natural gas issue on being an encouragement for the Cyprus Problem."
Loukaidis used the expression ; "In order to remove this danger we should take powerful initiatives which will drive Turkey into the corner," adding that AKEL has made tangible suggestions to the Greek Cypriot Political Party Leaders Congress which will put an end to Turkey's operations in the Eastern Mediterranean. Loukaidis also warned that if the negotiations fail to start again then other undesired solutions will be searched for, pointing to the latest statement of the UK's former Foreign Affairs Minister Jack Straw.
NEOFİTOU: "IF WE DISCUSS ENERGY MECHANISMS INSTEAD OF THE CYPRUS PROBLEM…."
The newspaper wrote that on a program he attended yesterday DISI Leader Averof Neofitou expressed his concern of the possibility of the repackaging of the Cyprus Problem and the hydrocarbon problem; "the hydrocarbon issue is present at the negotiation table because it has been placed there by Turkey and because of the UN General Secretary Special Consultant's famous "Idea Packages" he said.
According to the news Neofitou said; "At the end of 2012 and the beginning of 2013 some elements and diplomats came with the question of 'if the Cyprus Problem is not solved how will we solve the issues of energy' testing the reactions. Regarding this he warned that: "What if we discuss energy mechanisms instead of the Cyprus Problem. Forget about the Cyprus Problem. The occupation of Cyprus has concreted."